EnergyCAP 7.11.5 release notes
The latest updates to EnergyCAP Version 7 (Release 7.11.5) are now available for EnergyCAP hosted databases. This release is also available for installation by on-premises EnergyCAP clients. This update lets you add descriptions to objects, makes searching and finding objects easier, and improves viewing and editing bills.
Updated Screens and Description Field
The create and edit screens for buildings, meters, accounts, and organizations have been updated to better handle addresses for international clients and allow you to add more details about the object in the description field.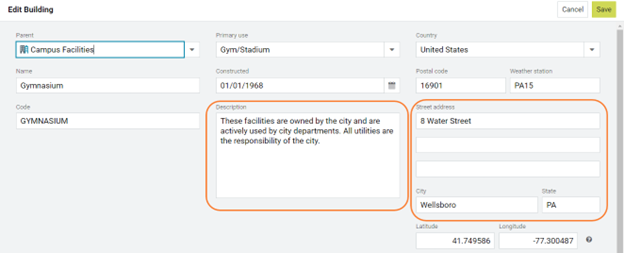 Improved Search
Search results are more friendly and provide you with more information to help you find the exact objects you need. It's also easy to navigate the search screen with your keyboard.
Up to 50 results are returned for each object (meter, building, account, or cost center) and matching search criteria is highlighted for you.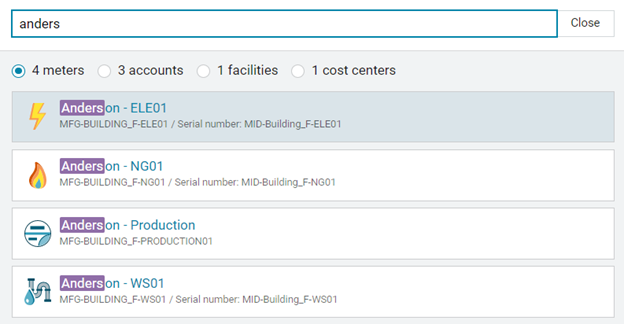 Any items you have selected from previous searches are displayed for quick access before you start a new search.

Search looks through the following items:
Object names and codes
Account number/last account number
Meter serial number/last serial number
Street address lines, city, and state (NOT country or postal code)
Bulk bill header edit
You can select one or more bills from a bill list and modify items on bill headers such as billing period, start date, end date, or control code. This could be helpful when you need to adjust bad data from a bill import.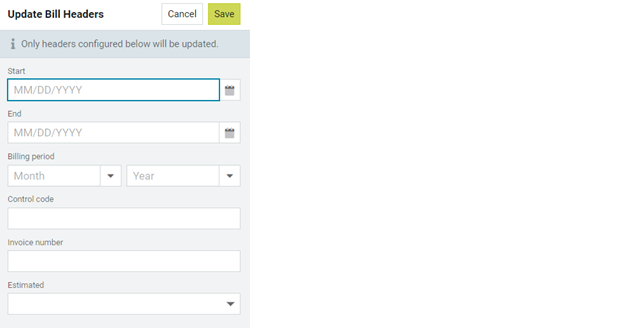 Updated bill screens
To ensure that you are viewing the correct bill we've added more information and hyperlinks to the bill header and added the bill id under the billing period.

The total cost of the bill is now "sticky" and always displayed at the bottom of the screen, this is especially useful when viewing long bills.
The view and edit screens for a bill now have a similar layout making it easier when switching between modes.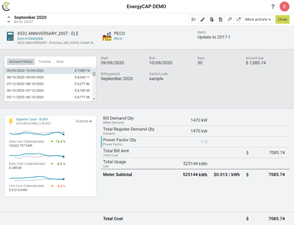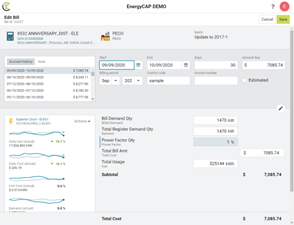 Actions menu
The actions menu lets you quickly edit information and is available for buildings, organizations, cost centers, accounts, and vendors.