EnergyCAP 7.13 release notes
This release includes new features and enhancements to EnergyCAP's auditing capabilities including intelligent bill outlier identification and updated bill lists.
Outlier audits
Outlier audits use the same logic as Report 13 and help you identify abnormal bills using your bill history and past/current weather data. Outlier audits will automatically flag your bills for review based on the sensitivity level you choose.

Audit enhancements
You can automatically assign flagged bills to one or more EnergyCAP users for review. EnergyCAP users can select the filter Assigned to Me when creating dashboard content to review their assigned bills.

Ignore bills based on cost. Each bill audit type has a setting for minimum cost to automatically skip bills with a low total cost.

Issue type has been added to track the specific bill audits that caused your bills to be flagged. Whether your bill fails one or many audits, you can see bills that have been flagged based on a specific type of audit exception.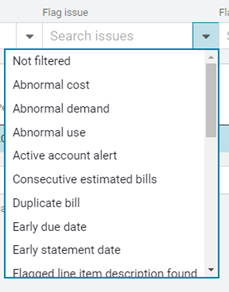 Disable bill audits for specific accounts. You can limit false positives by turning off all bill audits for specific accounts.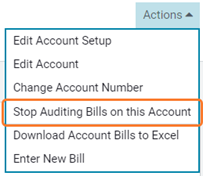 Updated bill lists
-Quick Filters help you find the bills you're looking for across all bill lists. One quick filter is dedicated to flagged bills. If a quick filter is set it also shows in the main filter list.
-Billing Period is now the primary column in a bill list and is also a hyperlink to view the bill.
-Updated column selector makes setting up your bill list easier.
-Updated legend and sort order are provided at the bottom of the screen.
-A new Actions menu lets you edit, share, copy, and download a bill list.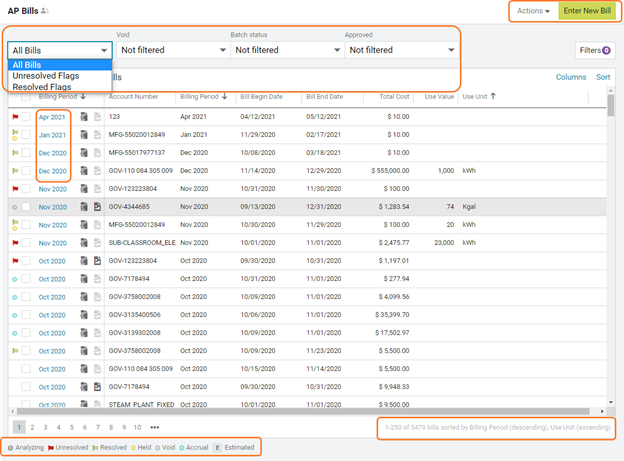 Enter a bill in more places
- With the Create button.
- From a bill list in the Bills module.
- With the Actions menu on any meter or account tab.

Download all your bill lists
You've always been able to download a bill list in the Bills module. Now you can download a meter bill list or account bill list.

Updated bill import
After you import your bills, the bill is saved, analyzed and then flags are assigned. A new icon shows when a bill is being analyzed.
Updates to chargeback bill calculations
We've made two updates to better handle monthly use and demand readings. Previously the bill begin and end dates were based on the date of monthly readings and did not use the timestamp of the reading to adjust dates. We are now incorporating the timestamp of the reading into the chargeback process.
Monthly Use
If the use reading has a timestamp up to and including noon, the reading date will also be the end date of the bill. If the reading is after noon, the bill end date will be one day after the reading date. The same logic is also applied to determine the start date of the bill.
This update in chargeback processing from version 7.12 to 7.13 may cause a one-time, one-day gap between your prior monthly chargeback bills and your first bill calculated with the updated logic. This is a one-time occurrence due to the more advanced timestamp logic.
Monthly demand
Monthly demand readings will also begin honoring the timestamp of the reading during chargeback calculations. Demand readings included in demand calculations will include all readings starting after noon on the day before the start date of the bill and ending at noon on the end date of the bill (previously, demand readings from the beginning of the start date of the bill to midnight of the end date of the bill were included in demand calculations). The maximum demand value will be used for the bill's demand.
Important notes for the first time running the chargeback engine after the 7.13 update
If your monthly readings have timestamps later than noon on the reading date, the chargeback engine may create either a duplicate bill for your prior monthly bill or a one-day gap between bills. Because any readings after noon are now considered to fall on the following date, the chargeback engine may view a prior reading as "new" and create a corresponding bill. For instance:
Monthly readings are recorded at 5:00pm for the time zone of the meter
Readings exist for April 10, 2021 at 5:00pm and May 10, 2021 at 5:00pm
The chargeback engine previously created a bill based on these readings that started on April 10 and ended on May 10
With the updated logic in version 7.13, the chargeback engine interprets the readings differently because they both are after NOON on the date of the reading.
The chargeback engine will attempt to create a bill with a start date of April 11 and an end date of May 11. Because no existing bill exists on these dates, the chargeback engine will create a second bill for these readings.
This issue may not affect your database based on your specific reading times, but we wanted to make you aware of the possible issue. This is a one-time issue—all calculations going forward will use the new logic and prevent any duplicate bills or gaps. This change does not impact bill calculations based on interval data that has a frequency less than monthly (e.g., daily, hourly, and 15-minute readings).
If duplicate bills are created in your database, they can be easily deleted/voided from a bill list using the following steps (screenshots included below):
View bills created by the chargeback engine by navigating to the

Chargebacks Module

and selecting the

Chargeback Log
Click on the bills created by a specific chargeback run
From the bill list that displays your chargeback bills, sort by

Bill Begin Date

to easily select bills to be deleted/voided
If you have any additional questions, please contact EnergyCAP's Technical Support team at.