EnergyCAP 7.8 release notes
The latest updates to EnergyCAP Version 7 (Release 7.8) are now available for all EnergyCAP-hosted databases. Several major features are part of 7.8—the ability to indicate the reporting units for meter charts and bill lists, enhanced options to configure and save bill formats, and integration with the EPA's ENERGY STAR® system. We've also released two new incredibly powerful reports to help you manage and validate your billing data!
Meter Units
Each meter can now be configured with the specific units to be used for calculating and charting meter use and demand (formerly, EnergyCAP would make a "best guess" based on assigned bill entry templates and billing information). This enhancement eliminates issues related to mixed units of measure—bills will be recorded and reported accurately, even if a vendor changes their billing units over the lifetime of a meter.
When creating a meter, you will now specify the use unit (and optionally the demand unit) that will be used to calculate and display the meter's data. There's no need to select a bill entry template going forward—EnergyCAP will automatically setup your meter for manual bill entry based on your meter's settings. The meter use and demand units are also used by the chargeback engine when performing bill calculations. During the upgrade to Release 7.8, we've automatically setup your existing meters based on the units from your previous bill entry templates, and we've recalculated your bills to report based on your new meter units.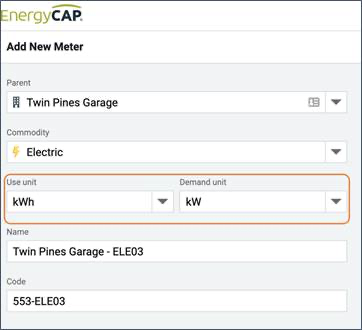 Your meter can now have bills that are recorded in different units over time—we'll take care of the conversions in the background to make sure your data is reported consistently. There's no need to run a mixed units of measure calculation or update old bills. It just works!
We've also made the bill entry process smarter, and you'll be alerted if you try to enter bills that have multiple unit types on the same meter (that's a bad thing, and you'll want to fix it).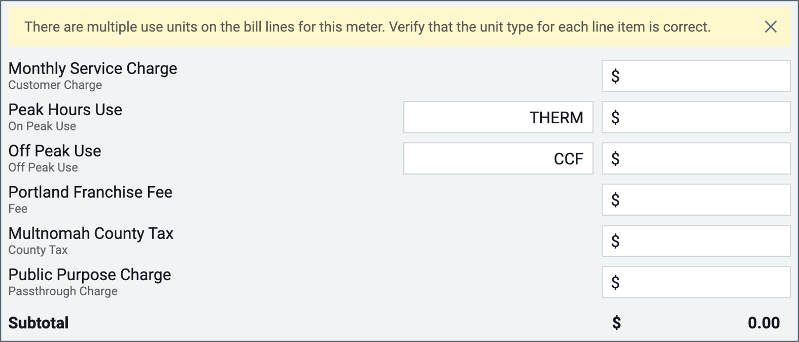 Bill Formats
The ability to easily customize and save bill formats during the manual bill entry process replaces the need to maintain and assign bill entry templates. This new process is intuitive and easy-to-use—if you change the line items on a bill or update captions while saving a bill, we'll ask you whether or not you want to save your bill format changes and walk you through the process of making updates to other accounts and meters.
You can update the bill format for a meter at any time by adding or removing bill lines during manual bill entry. When you change the layout of a bill, you'll be prompted with options for how you would like to use the updated format. You can use the new format one time only, use it for all new bills on this meter, use it for all new bills on meters that share the same vendor and rate, or pick specific meters that you want to use it on in the future. All this happens as you make changes—there's no special editor or administration screens you need to use.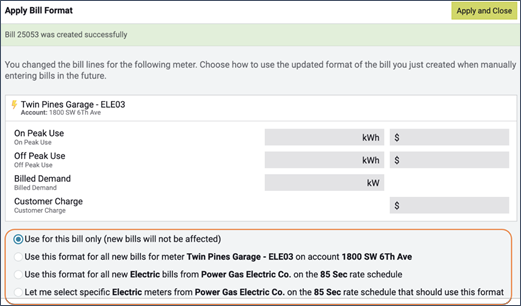 What if you want to use the bill format from a bill you already have in your database? You can open the bill, select Apply Bill Format… from the meter's Actions menu, and you'll be able to apply the bill format to this or other meters, just like during the bill entry process. Essentially, your bills have become the replacement for bill entry templates.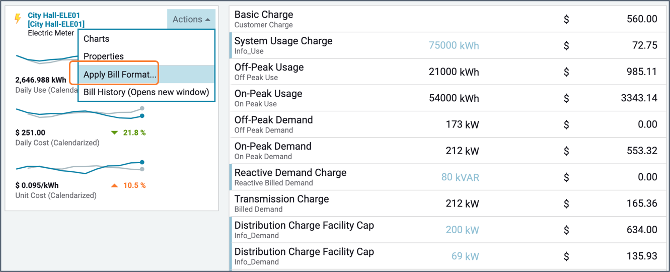 For those times when you need to manually enter a bill for a meter that normally has imported bills or where you use the chargeback engine to create calculated bills, we've also made the process easier. In both of these situations, we'll now use the bill format from the most recent bill to help make manually entering a bill even easier.
We've provided an article in the EnergyCAP Help Center that explains more about bill line item types. It also provides some example bill formats for specific scenarios.
EnergyCAP Version 7.8 and ENERGY STAR
EnergyCAP's ENERGY STAR features have been redesigned from the ground-up in Version 7.8 based on customer feedback and suggestions from the EPA. You can now send EnergyCAP billing data to an existing Portfolio Manager® account, retrieve scores and metrics for any months you want, and easily track and highlight building performance. We've also updated the submission process to provide greater transparency and reduce the amount of data errors you receive from Portfolio Manager by submitting calendarized data from your EnergyCAP database.
We've streamlined the process of getting ENERGY STAR enabled for your database in EnergyCAP Version 7. If you've already been submitting data to ENERGY STAR from EnergyCAP Version 3, confirm your new ENERGY STAR settings, and you're ready to go! You'll now assume control of your existing Portfolio Manager account—you can now customize the settings for your properties and meters in Portfolio Manager. We have a dedicated article in our Help Center to help you with this transition.
If you're new to using EnergyCAP to submit data to ENERGY STAR, start by sharing your ENERGY STAR Portfolio Manager account with us. You can use a brand-new Portfolio Manager account or one you've been using for years.
Enable ENERGY STAR in Your Database
You will not see any ENERGY STAR tabs or information in your EnergyCAP database until you enable the ENERGY STAR features. Use the menu in the Buildings & Meters module to view the ENERGY STAR Settings (screenshot below). If you've already shared your Portfolio Manager account with EnergyCAP (or you used EnergyCAP Version 3 to submit data to ENERGY STAR), you'll just need to provide two items of information:
ENERGY STAR Notification Recipients—Provide one or more email addresses to be notified of the status of your data submissions. You can choose from existing EnergyCAP users or type in another email address. Multiple email addresses can be provided.
Earliest Submission Month—This is the earliest month of data that you want EnergyCAP Version 7 to submit to ENERGY STAR from your database. EnergyCAP Version 7 will NEVER submit data earlier than this date. This is often set to the beginning of a reporting period.
NOTE: If you previously submitted data to ENERGY STAR with EnergyCAP Version 3, the Earliest Submission Month will be used to remove any data that was submitted with Version 3 during or after the provided month. To avoid duplicate data, it's important for EnergyCAP to remove old data submitted with Version 3 for any months that will also be submitted in Version 7. ANY DATA PREVIOUSLY SUBMITTED with VERSION 3 WILL BE REMOVED AFTER THE DATE YOU PROVIDE.
You may update this date multiple times. If you are uncertain of the date to choose, please read our help articles, or contact our support team. This date can also be helpful to avoid sending data from EnergyCAP for months you have previously submitted data directly to Portfolio Manager.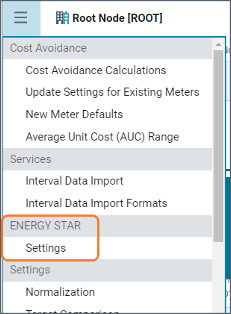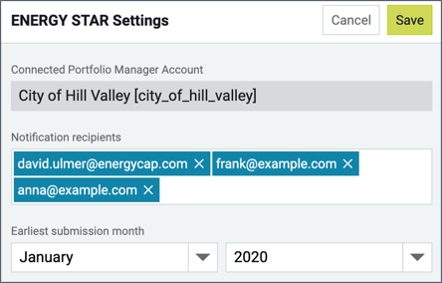 Link Your Buildings and Meters
After you've enabled the ENERGY STAR features in your database, link your Portfolio Manager properties and meters to your EnergyCAP buildings and meters. From any EnergyCAP building, you can start linking your data together.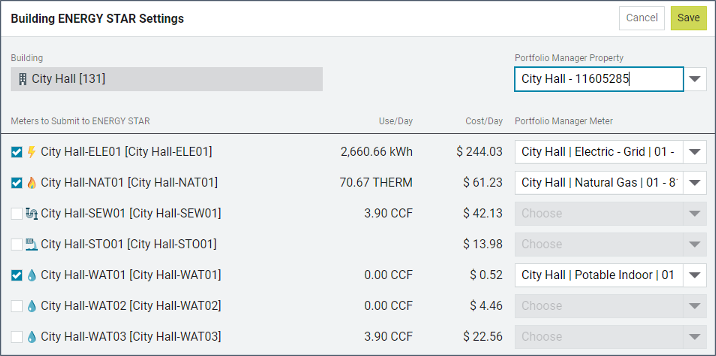 You can also use our new ENERGY STAR setup spreadsheet to link multiple buildings and meters at the same time.
New ENERGY STAR Submission Screen
With the new ENERGY STAR submission screen in EnergyCAP Version 7, you can easily view the status of your bills before you send them to Portfolio Manager. See what you've already submitted, which buildings are ready to send, which buildings don't have all their data yet, and what's changed since your last submission.
All buildings linked to Portfolio Manager are listed here. Easily identify the status of bills for each building and month. If bills are updated after they have been submitted, the status changes from Submitted back to Ready.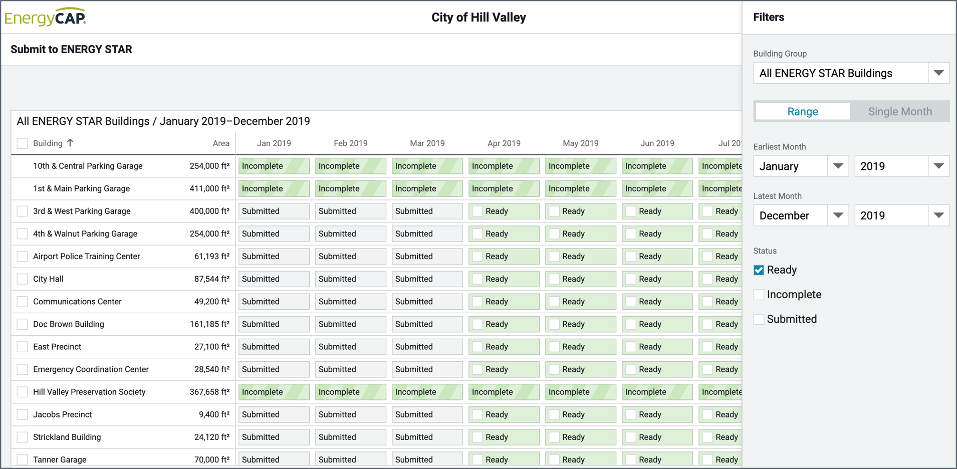 Calendarized Data
All data sent to ENERGY STAR is calendarized data—this means that your bills have been divided up between calendar months to simplify your data submission. It's easy to see what months you've submitted and the status of each month's bill data. This approach also ensures that you don't have gaps between bills or overlapping bills when you retrieve your ENERGY STAR scores and metrics.

Submission Process and Email Notifications
Each time you submit data, EnergyCAP will start attempting to submit data to Portfolio Manager and you will receive email notifications throughout the submission process. ENERGY STAR scores are retrieved automatically for all buildings submitted.

Errors with Updating Scores and Metrics
No emails are sent if alerts or errors are received when attempting to update scores, instead a log is maintained in EnergyCAP with links to the information. We know that there are LOTS of reasons why you might not get a score, so we decided not to send you lots of messages.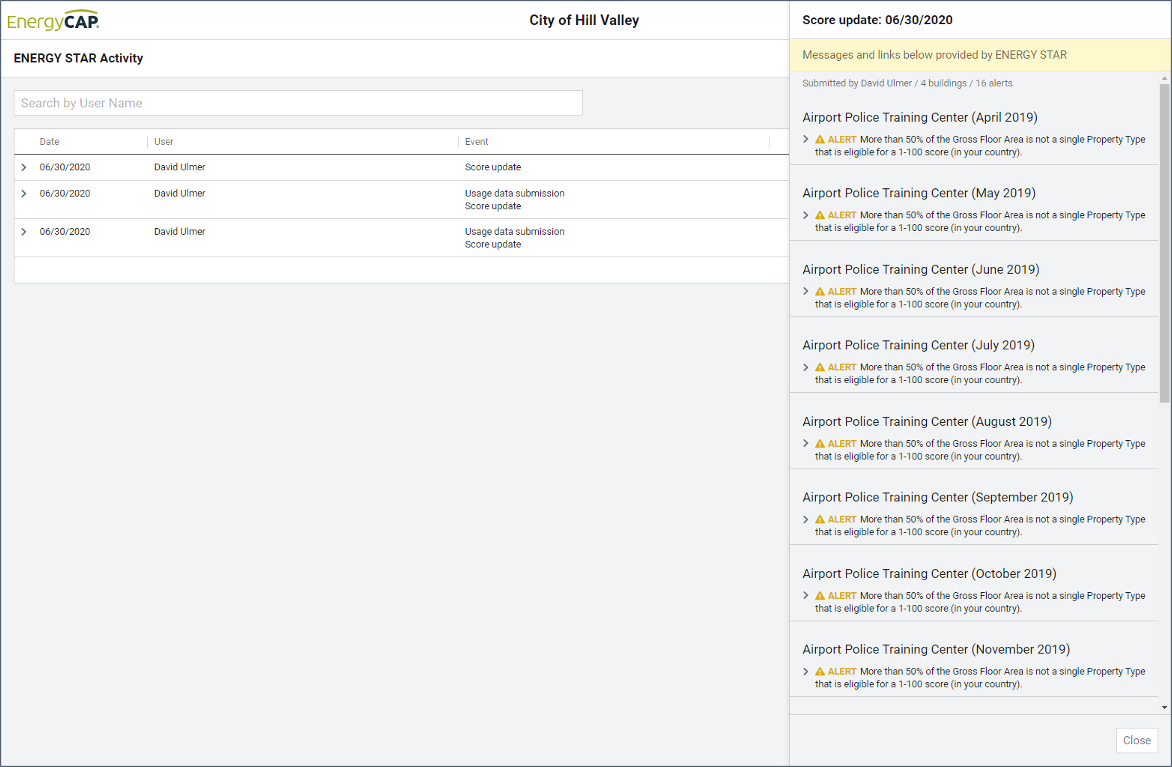 Update Your Scores and Metrics Anytime
Select any building and date range to refresh your ENERGY STAR scores. You can even retrieve scores and metrics for months prior to the earliest submission month for Version 7.

Updated Building View
We've refreshed how we display your ENERGY STAR information for each linked building. You'll now see a better score trend and we're also showing trend information for the ENERGY STAR calculated energy use intensity (EUI) values for your buildings. Your most recent score (or EUI if score is not available) is prominently displayed.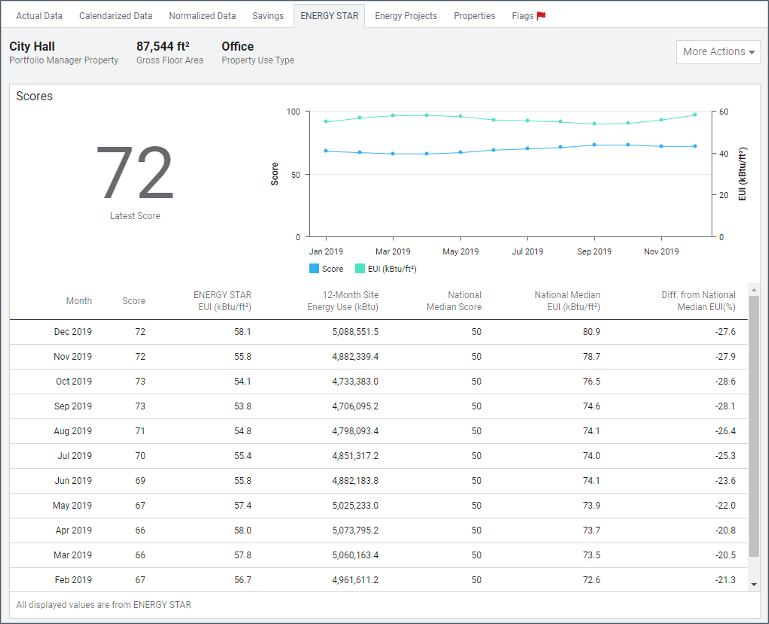 New Organization View
The ENERGY STAR tab for an organization lists all the buildings linked to Portfolio Manager within the organization. This makes it easy to see all your buildings and their most recent scores on one screen.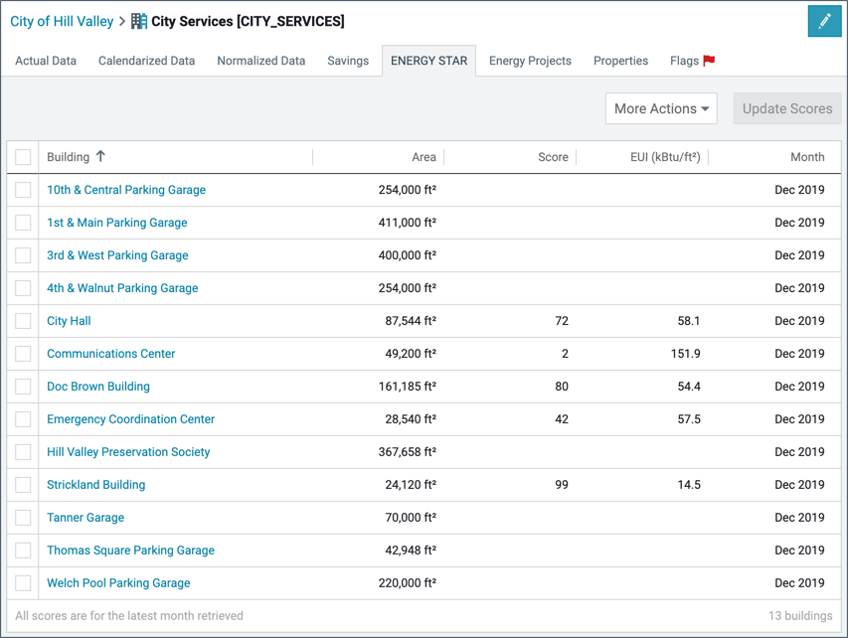 New ENERGY STAR Dashboard Content
New dashboard content panels display ENERGY STAR scores and EUI information for one or many buildings. This allows you to easily share your ENERGY STAR benchmarking with others.

Two New Reports
In addition to all these updates, we've also published two new reports to help you manage your bills.
Report-17: Missing and Overlapping Bills by Meter—This report helps you quickly identify months missing billing data and dates where multiple bills exist. We've taken the best parts of the legacy BL08 report series and built one report that clearly identifies problems with your billing data.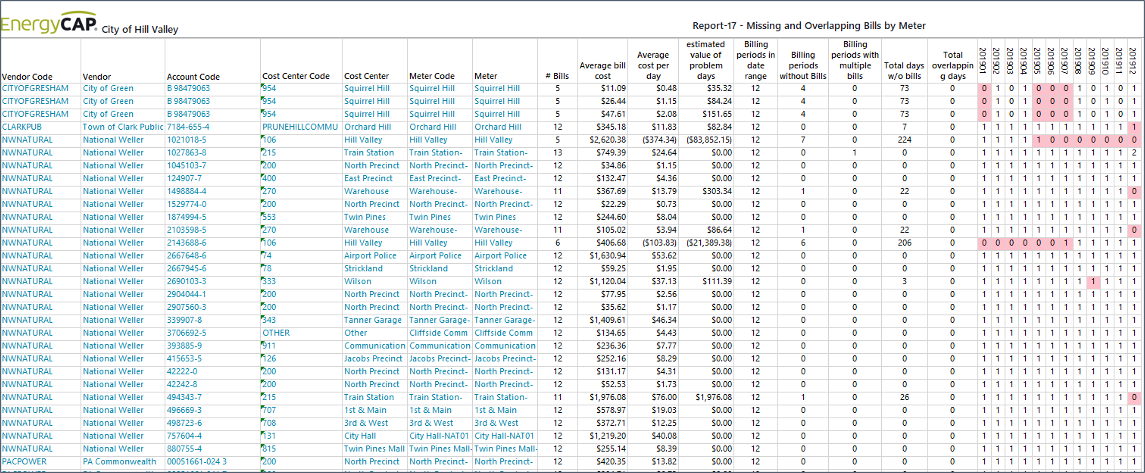 Report-13: Bill Analysis—This may be our smartest report ever! It helps identify abnormal bills using your billing history and past/current weather data to highlight bills for analysis. We're using quadratic regression models for use, cost, and demand to save you time and only highlight the bills that need your attention. This report enhances the content of Report-12 and replaces the AN27, BL20, BL27, and BL27 legacy reports.